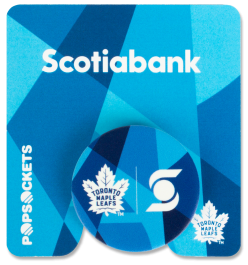 It's hockey playoff time in the city of Toronto and the streets are buzzing with talk of the beloved Maple Leafs taking on the Boston Bruins.
If you found yourself at Game 3, 4 or 6 at Scotiabank Arena you may have seen Scotiabank Ambassadors chatting with Scotiabank customers and handing them beautifully branded PopSockets, with the Leafs and Scotiabank logos, as an appreciation of their time.
What's the catch?
No catch. These were given out as thanks for Scotiabank customers hearing about a new benefits programs that Scotiabank has rolled out, Scotia Perks.
---
What is Scotia Perks?
This new program benefits all Scotiabank card holders (credit or debit access cards) as well as those with the mobile app.
When making select purchases with your Scotiabank card, you gain the following perks:
10% off at Food Junction concession stands inside the Scotiabank Arena

10% off all merchandise purchased in-store at Real Sports Apparel

Free shipping with purchases made online at Real Sports Apparel

Advance reservations on game days at Real Sports Bar and Grill at 15 York Street in Toronto.
You also gain special access to the Scotiabank Customer Entrance at the Scotiabank Arena and early access to Scotiabank Toronto Maple Leafs Tailgate Parties during these 2019 Playoffs.
Read through the complete list of benefits offered under the Scotia Perks programs.
---
Branded PopSocket Giveaways
The custom PopSockets used for this Scotia Perks activation were really well received. The contrast of the white logos against the various blues in the background makes for easy brand recognition.
Let's be honest, these PopSockets look AMAZING!
PopSockets are the perfect giveaway as they can be given in exchange for a quick conversation with brand ambassadors, as Scotiabank did to talk about Scotia Perks. Receivers can immediately attach them onto their phones or fit them into their pockets, making them not a burdensome gift to carry around.
If you also love the way these custom PopSockets look, ask us how you can create your own branded PopSockets for your event.