It already seems like years have passed since the first publicized cases of coronavirus in North America. The shutdown of the National Basketball Association, one of the first drastic shutdowns to take place as a result of the virus, occurred March 11, 2020 – only 5 months ago!
Within that short timeframe, we have learned a lot about COVID-19. As a result, we are all familiar with the importance of wearing masks, using hand sanitizer, social distancing, and of course, washing our hands. To give yourself, your family, and your employees an extra layer of protection, we want to talk to you about No-Touch Tools.
Are No-Touch Tools Useful?
Since COVID-19 is transmissible through respiratory droplets, in theory, it can be contracted from surfaces if you touch them and then touch your face. A No-Touch Tool is a great way to add an extra level of protection by removing physical contact between a surface and your hand. While plastic gloves can accomplish the same goal, it is a more eco-friendly option to use these No-Touch Tools since they can be continuously reused as opposed to plastic gloves, which are to be disposed of after each use. Use them in elevators, on door handles, and keypads to help reduce touching shared surfaces.
Just like face masks, these tools need to be cleaned as well. While some materials are naturally antimicrobial, all No-Touch Tools should be cleaned after use to maximize their benefit in helping mitigate the risk of touching a surface with COVID-19.

What Style of No-Touch Tool Should I Choose?
If you have spent any time on social media in the past 5 months, then, you have probably been bombarded with plenty of posts about these little, portable tools. Many times, the quality of the item is questionable and the branding options are few to none. To help you make your choice, we have narrowed down a list of our 3 favourite No-Touch Tools!
B-Safe Key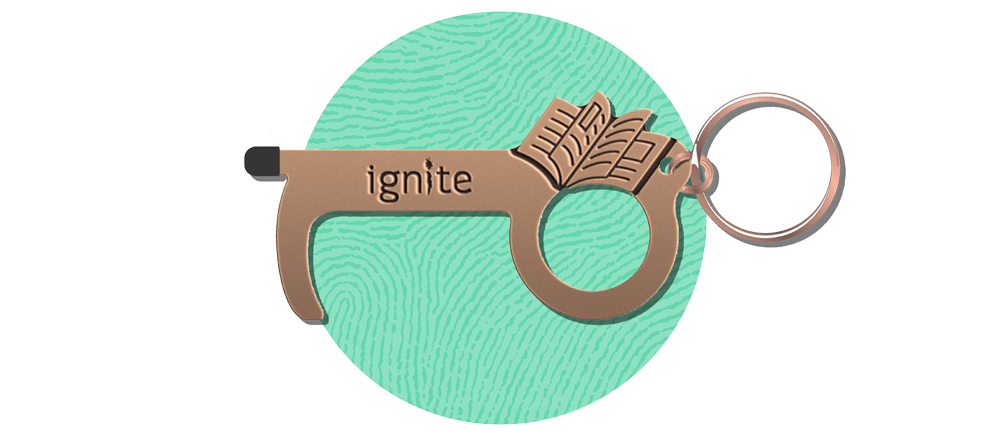 This No-Touch Tool is one of the best all around options you can choose! Use their standard shape or make your brand stand out by either suggesting or allowing the designers to create a custom shape that helps reflect who your company is! These ergonomic keys are copper plated, which studies have shown to be antimicrobial and greatly reduce the time COVID-19 can survive on its surface (no traces after 4 hours).
Logo can be embossed on the body

Keyring attached

Optional stylus and packaging available

3" (7.6cm) x 1.25" (3.18cm) x 3/16" (almost 0.5cm) thick

Made in Canada 🍁
Touchless Acrylic Key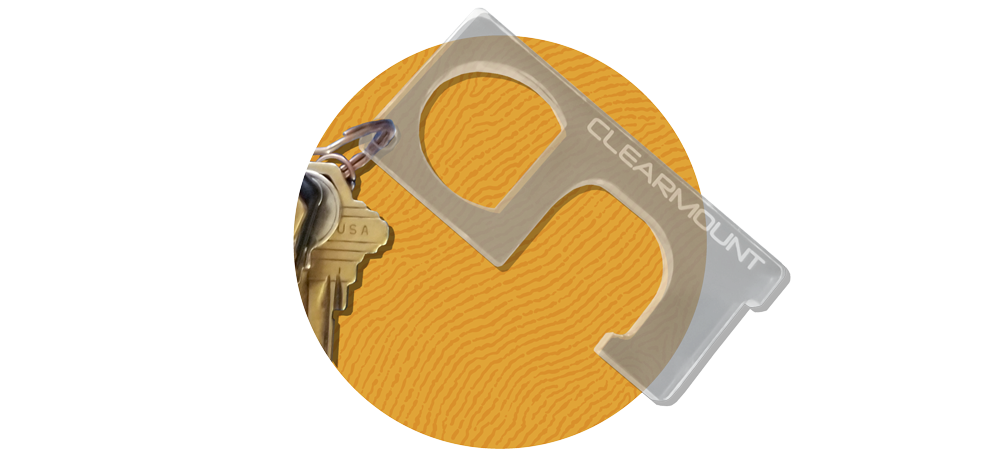 If you are looking for something a little lighter and with a different feel and look to it, then these Touchless Acrylic Keys are just what you are looking for! Made with durable acrylic (about ¼"  – 0.64cm thick), you can get really creative with your custom shape. If you are willing to make it a little thicker, then you can take your vision to a new level by embedding images, gold flakes, and more within the key!
Laser engrave your logo on the body

Choose from transparent or coloured acrylic

Easily attachable to a keychain

Made in Canada 🍁
TouchTool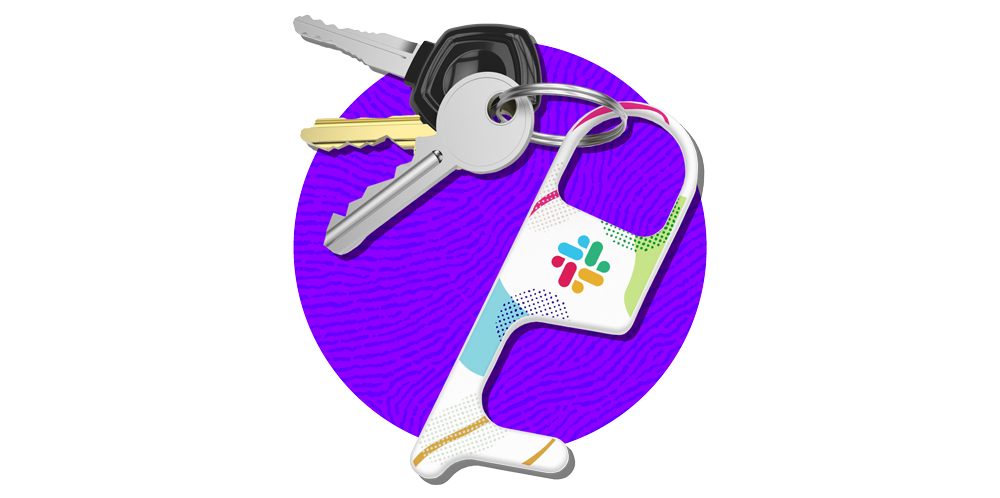 Opting for something a little more vibrant? With the TouchTool you can flex your colour muscles by printing full colour on these lightweight No-Touch Tools! This allows you to put your full brand logo on the key or to design some eye-popping artwork.
Made with ABS plastic

Decorate with a standard imprint or go with full bleed, edge-to-edge printing

Easily attaches to a keychain

Comes in standard packaging of poly bag with instruction card but can be upgraded with custom cards or even white magnetic gift boxes

Designed in Canada / Made in China
Regardless of which No-Touch Tool you think is right for you, remember to be safe and protect yourself out there!
Contact us to learn more about developing your own No-Touch Tools. Click the button below to get started – no touching required! 👆