In front of me, between various promo swag booths was the 5th hole of the Mini Putt course. I watched as one of our client guests walked past the hole and proclaim to her group that she had never tried mini-putting before. The hole had a wavy obstacle in the middle and to the sides, making it challenging, even for PGA golfers. Well, this guest, Julie, picked up a putter and, with not even a practice swing, flawlessly sunk a hole in one!
Her group laughed and cheered in Julie's elation.
That is a pretty good anecdote of how the Genumark Client Day went down. It was a great success and the feedback we received from our clients and partners was better than we could have hoped. If you missed out on the fun, keep reading to see what was missed!

The Genumark Showcase and Open House was our way of inviting our clients, partners, and suppliers to our home and give them the grand tour! Guests had the opportunity to explore Genumark behind the scenes while also being delighted with some of the newest and trendiest promo swag from a few of our biggest suppliers.
Did you miss out on the cool promo swag, mini putt, mountains of delicious food, and giveaways?
Fear not! Here is a little summary of what we had in store when we welcomed our clients and friends into our home.
---
Hot New Promotional Products for 2019
We had a lot of our supplier partners set up booths around the office to show off their trendiest and unique swag products. Here are a couple of highlights.
Custom NFC Technology Products
by Spector & Co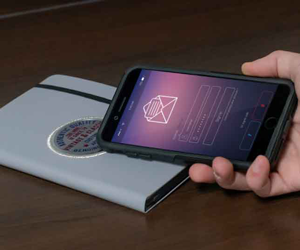 Our friends at Spector brought with them one of the coolest custom products of the day. NFC enabled promotional items takes your product marketing to a whole new level. With the tap of their phone, people can instantly be brought to where you want them. This makes a perfect promotional product for awareness and sales funnels.
Want them to find your company's nearest location? Tap the logo on the custom notebook.
Want them to navigate to a specific page on your website? Tap the logo on the trade show backpack you gave them.
Ready to jump on this innovative idea? Tap your mouse here to get started!
---
Logoed Cast Iron Pans with CraftKitchen
from Starline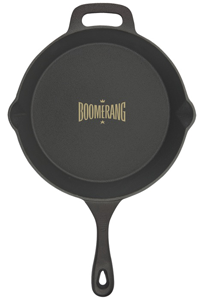 Bringing branded promo products to the kitchen isn't always easy but the CraftKitchen line of logoed cast iron pans is a great way to do it! Laser engrave your company's logo in the center of these cast iron pans so that people are reminded who helped them cook that delicious herb chicken or marinated eggplant!
Learn more about this product. Let's get cooking!
---
Inverted Umbrellas
from Peerless Umbrella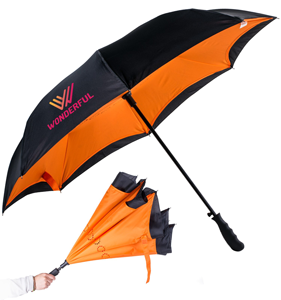 Impress people on a rainy day by keeping them dry with these inverted umbrellas! This amazing design pushes the umbrella away from the user, ensuring they do not get wet when closing their umbrella. Nothing is worse than successfully avoiding the rain, only to get wet because of your promotional umbrella!
---
The Activities
Guests and employees alike had a great time with our two big activities; Mini-putt and the Graffiti Wall.
We positioned 9 holes of mini-putt all around the premises to let people socialize while showing off their putting skills. With no formal game score being taken, the laid back course allowed people a quick change of pace between exploring the customizable promotional products that surrounded them.
Even more popular than the mini-putt (but second only to all the delicious food on hand) was the Graffiti Wall. Getting together in pairs and groups, guests had the chance to take photos together in front of a green-screen with customizable backgrounds. Guests really let loose with some silly poses!
Photo: Our awesome onsite screen printing station creating custom t-shirts!
The Genumark Showcase and Open House was a great success and something we plan on doing again in the future! Don't miss out on the next event, subscribe to our newsletter to stay in the loop! This will allow you to learn about new promotional products and also have an opportunity to join us in fun events like this Showcase 🙂